IMMINENT SONIC DESTRUCTION is: 
PAT DELEON (drums) • PETE HOPERSBERGER (keys/vocals)
BRYAN PAXTON (bass) • TONY PICCOLI (lead vocals/guitar)
SCOTT THOMPSON (guitar/vocals)
 Our influences are drawn from various early progressive rock acts and current heavy metal acts, progressive and otherwise. (Prog-heads AND Metal-heads alike love us!). After honing our sound in rehearsals and on stages around the Detroit area under the name "MELLOTRÖN," we decided to rename the band (to avoid legal issues) and settled on the slogan that described our music and personalities best; IMMINENT SONIC DESTRUCTION.
In the fall of 2010 we began work on our debut full length album, "RECURRING THEMES." We got our demos to producer ROY Z (Bruce Dickinson, Rob Halford, Sepultura), and upon hearing them, he offered to produce our album. We finished tracking in 2011, and enlisted the talents of Nick Morris (Black Dahlia Murder, As They Sleep, Walls Of Jericho) to mix the album. "RECURRING THEMES" was released on February 24th, 2012, to critical acclaim.
Read reviews and press regarding RECURRING THEMES here: http://imminentsonicdestruction.com/media/
In 2013 we were afforded the opportunity to tour the United States and Canada with PAIN OF SALVATION and KINGCROW, based off of the buzz surrounding "RECURRING THEMES." This opportunity was then realized due to a successful crowdfunding campaign, which raised over $3,000 to cover touring costs.
In 2015 we will be entering the studio to record our second full-length album with Nick Morris at the helm once again, this time in the role of producer. We enter the studio in March, and hope to be entirely finished with the album by late spring. Travis Smith (Opeth, Anathema, Devin Townsend, many others) will be doing the artwork.
We plan to tour in 2015 in support of our second album. Our goals as a band are to grow, tour, produce high quality music and make enough money to support said recording and touring. We realize that this will take years of hard work, and we're prepared to do that. Our aim is to partner with a reputable music label, team up with a quality management group, and create strong partnerships with everyone involved with us in order to reach high levels of success.
Thank you for your time and we look forward to working with you very soon.
Sincerely,
I.S.D.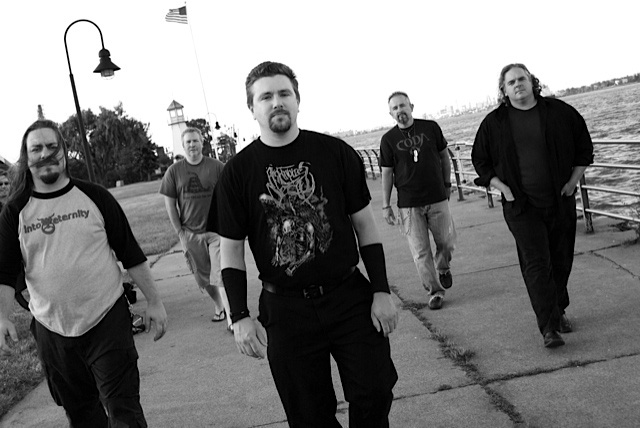 IMMINENT SONIC DESTRUCTION is the brainchild of Detroit-based guitarist, vocalist and progressive metal innovator Tony Piccoli. Influenced by the raw power of bands such as Strapping Young Lad, Meshuggah and Pantera as well as the disciplined complexities of progressive groups like Dream Theater and Genesis, Piccoli set out to change the face of progressive metal. His blend of crushing guitars, ethereal overtones, a combination of vocal styles and wonderful melody are wrapped in subtly complex time signatures, skull-crushing riffs and melodic hooks.